Die NAH.SH-App
is available free of charge in the App Store and at Google Play!
German languge only
With the NAH.SH App, you'll always have your personal timetable in your pocket and can conveniently find all the information you need for your next journey with local transport – free of charge, of course.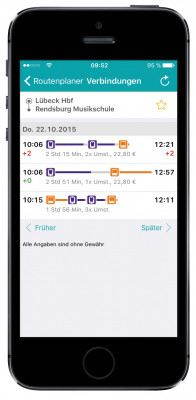 The NAH.SH App offers the following functions:
An individual planning tool for bus and rail travel in Schleswig-Holstein: From your current location, a certain address, the nearest bus stop or a railway station of your choice, the route planner calculates the best connection to your destination and shows you the exact distance, walking routes, platforms and transfer times. The locating function of the app determines the optimal connection automatically. You can refine your search in the settings.
A bus/train stop overview with the next arrival and departure times as well as a surroundings map provides you with precise orientation.
A map overview of your current location and surroundings with all bus/train stops allows easy planning of your next journey with bus and rail. You can adjust the display to your individual needs using the settings.
Together with the connection suggestions, you can have tariff information and the various tickets That way you can see immediately what your next journey will cost and what ticket is the cheapest for you.
The real-time data display will let you know in good time if your train or bus is running according to schedule, allowing you to change your plans if necessary.
The app is available free of charge in the App Store and at Google Play.